A Letter from Lauren: July 2019
Designer Watches ~ Pure Indulgence and Self Love
Welcome to the Editors Page of The Uptown Timepiece.  I am Lauren Parker and I am your host.
Our Second Edition
Thank you for joining me for our second edition of The Uptown Timepiece, Special Timepiece for Special Times. Our first month was an exciting month for us all here at The Uptown Timepiece and we look forward to spending more quality time with you in the months to come.
Coming this Month
This month at The Uptown Timepiece we are excited to bring you articles on the luxurious experience of Café Watch

Shopping; on sustainable shopping for ladies or men's designer watches; the best mens designer watches for your hot July poolside BBQ and much more.
Additionally, I will feature one of my personal favorite ladies designer timepiece fashion trends seen on Pinterest, as well as an article on the cross-pollination of 'Horology and Fine Art' and why it means so much to me.
Last month you read the story about me finding my sexy timepiece. This month, I begin a new story as I embark upon a quest for a new designer watch. Do understand, I adore my sexy timepiece but the time has come for something new, and I am taking you all shopping with me.
Why Spend the Money?
Designer watches and luxury timepieces can be costly. Prices can range from the thousands to hundreds of thousands to several million dollars. When purchasing a luxury timepiece for yourself, the question can beckon, "Why spend the money?" I will tell you why. Self love. It's as simple as that.
The Best Partner and Friend
Imagine you have the best partner or friend in the world, they are good to you, kind to you, always make sure you eat your favorite foods and have your favorite things. They care for you when you are sick and celebrate wildly with you when occasion calls. They support you in all your endeavors and they even are available to give you a swift kick in the pants if you deserve one.
They are the truest partner or friend. Imagining life without them is impossible.


Now imagine that partner just achieved some major milestone in their life; something that calls for a real celebration. You would likely go to lengths to pick out the perfect gift for that person, regardless of the cost; something really special. After all, they mean the world to you and you want to give to them something truly special and timeless; just so they can experience the joy of receiving; of feeling appreciated and loved.
Now realize that partner is actually you. You do all those things for you and more. Appreciate yourself. Love yourself. Treat yourself to that luxurious gift and most importantly, receive it with gratitude.
Time to Go Shopping ~ What Should I Buy?
Shopping for my new designer watch will be fun; actually it already is. I have started browsing jewelers, boutiques and some top luxury watch sites. I peek at trunk shows and publications and I am far from ready to make my decision.
What watch would you like to see me buy for myself? Do you have a favorite ladies designer watch style? Remember, I am a simple taste when it comes to complications, I prefer a platinum, white gold or stainless dominant two-tone finish and most importantly, it absolutely must be sexy!
Pure Indulgence
I am a devotee of Mr. Dan Lok; self proclaimed 'King of High Ticket Sales'.  Watching Dan Lok unboxing his new Patek Philippe on YouTube was enjoyable to me. Listening to him and his co-host discuss the generational aspect of fine timepieces; the statement a fine timepiece makes and the heritage that goes into the making of the timepiece all held my intrigue but the greatest intrigue of all, for me, was the "Why?" he made the purchase. Would his reasons be the same as mine?

Kay Jewelers Stackable Rings
It would seem so. The watch spoke to him. He bought it because he liked it and he wanted the best. Plain and simple, pure indulgence; a gift of self-love received with gratitude. Perfect.
Quality Time
Thank you for joining me here today. As always, I have enjoyed our quality time together.
Check back in future months for informative articles on how to tell if a luxury dealer is selling you authentic merchandise, on how designer floor clocks can elevate the aesthetics of your favorite room and the story of my 'Day of Watch Shopping' in Interlaken, Switzerland.
As always, I invite you to bookmark this page and join us often for new content, exciting events, upcoming giveaways and the launch of our exclusive VIP club.
Contribute to the conversation below. Tell me, what watch you would buy if you were me? I would love to hear from you. Post your pictures and be sure to check us out on Twitter!
Until next time.
Warmest regards,
Lauren Parker – Editor in Chief, The Uptown Timepiece
To read the June edition of  A Letter from Lauren please CLICK HERE.
~
Lauren has spent most of her life traveling; forming sociable alliances with the like-minded people, agencies, vendors, artists, organizations and public figures worldwide. She causes profitable operations by using imagination and form. It is her belief one should inspire others through leading by example. It is her goal to manifest the highest possible version of herself; and then some.
Lauren does not provide any timepiece valuations as she is not a certified appraiser. When making a significant investment of any kind, it is your responsibility to conduct your own due diligence.
Lauren Parker may be contacted by sending an e-mail to:
LaurenParker@TheUptownTimepiece.com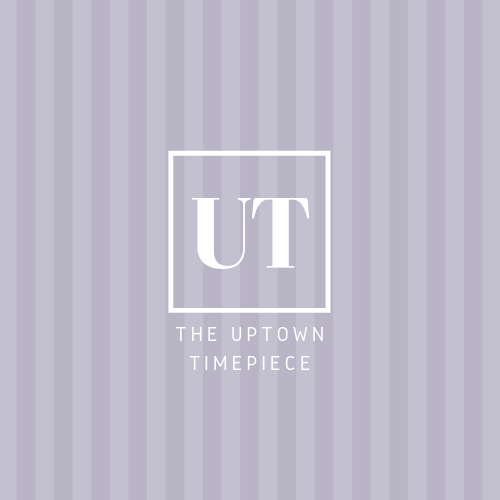 c2019 The Uptown Timepiece. No information may be reproduced without written permission from The Uptown Timepiece, its Editor in Chief or its Managing Director.