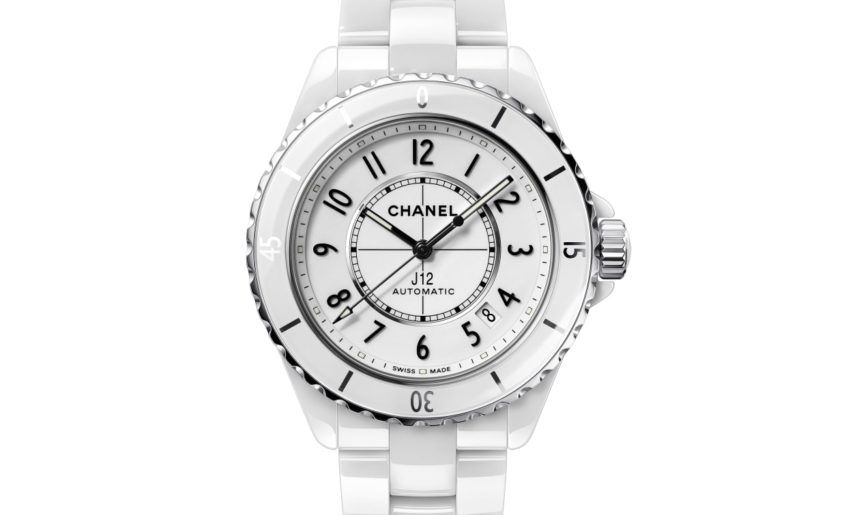 Updated August 11, 2020
Let's face it, white is the color of light, goodness, innocence, purity, cleanliness, and safety.  White color represents a positive connotation; mostly, a successful beginning.  This color has the ability to have a deep impact on the mind by helping in mental clarity.  It is the reason why it promotes pure thoughts and actions.  So, white stands for everything right and good.
Whether for yourself or as a gift, this is the reason why you should invest in a white designer watch for adding simplicity and elegance to your everyday look.  In this post, we have mentioned a few of the best white designer watches for women.
Kindly note, this post contains affiliate links.  The Uptown Timepiece may receive a commission at no extra cost to you should you choose to make a purchase.  The Uptown Timepiece is independently owned.  The opinions expressed here are our own.
Have a look!
1. Patek Philippe Calatrava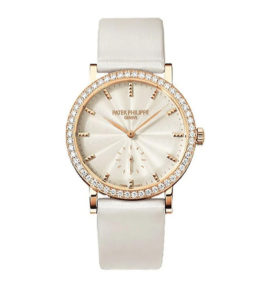 If you want to enhance your appeal to create an excellent impression, a white designer watch is what you need.  This Patek Philippe Calatrava watch features a bezel with 18K rose gold and diamonds.  It has a manual winding mechanism and a 31 mm diameter with white straps.  It comes with a scratch-resistant crystal, meaning it a wonderful choice for all occasions.
The first Calatrava was launched in 1932 and since then, this series has come a long way.  It offers the perfect combination of elegance and sophistication.  The watch is best for enhancing your personality.
Update 2020: Due to the impact of Covid-19 the Calatrava may not be available from our partners at this time.  To view the Aquanaut Luce 'Glitter White' also by Patek Philippe you may click here now.
2. Chopard Imperiale
Another great white designer watch for women is Chopard Imperiale.  This elegant watch has a 36 mm diameter with a white leather strap. It features a white dial with the Imperiale motif engraved in the center.  In addition, it has roman numeral and sticks hour markers.  This is an automatic self-winding watch and has scratch-resistant sapphire crystal.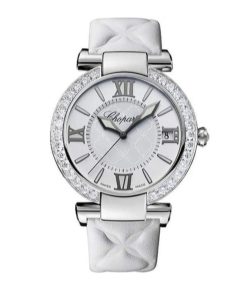 The bezel is fixed with diamonds, which adds sophistication and style to your outfit.  Louis-Ulysse Chopard focused on reliability and precision to create the most desirable timepieces.  So, if you want to improve your looks, get a white designer watch.
Update 2020: Due to the impact of Covid-19 several items may not be available from our partners at this time.  We applogize for any inconvenience this may cause.  We are pleased we  to offer you alternate suggestions at this time:
Hublot Rose Gold Diamonds Big Bang One Click 39mm Ladies Watch 465.OE.2080.RW.1204
3. Van Cleef & Arpels Alhambra
Every timepiece created by Van Cleef & Arpels has a story to tell.  This watch provides elegance, grace, innovation, refinement, and asymmetrical design.  The Alhambra watch is a symbol of good luck.  The watch is manufactured with several precious materials and cuts.  It features a white mother of pearl dial and bracelet with 8 stones on the dial.  This watch has a 26 mm diameter with yellow gold bezel, crown, and clasp.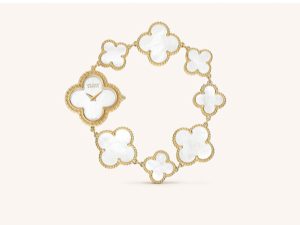 All the watches produced by this manufacturer follow the values of expertise, creation, and transmission.  This watch is created with excellent craftsmanship and technical prowess.  To improve your outfit, invest in a quality white watch.
4. Chanel J12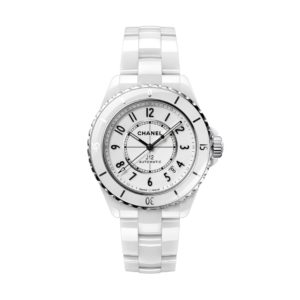 One of the best white designer watches is Chanel J12.  This white watch is made from highly resistant steel and ceramic, making it long-lasting and durable.  It has an automatic caliber 12.1 self-winding movements and a steel unidirectional rotating bezel.  The watch has a ceramic bracelet that is a perfect definition of elegance and class. This watch features a steel screw-down crown with white ceramic cabochon.  It is water-resistant up to 200 m.  The watch has ceramic numerals for more graphic impact.
White is the color associated with goodness, light, purity, and safety.  A wonderful white designer watch will be your companion for every second.
Create a positive and cool appearance by getting a white ladies' designer watch.  Which is your favorite?  Tell us in the comments below.
Be sure to SHARE TWEET PIN too!
U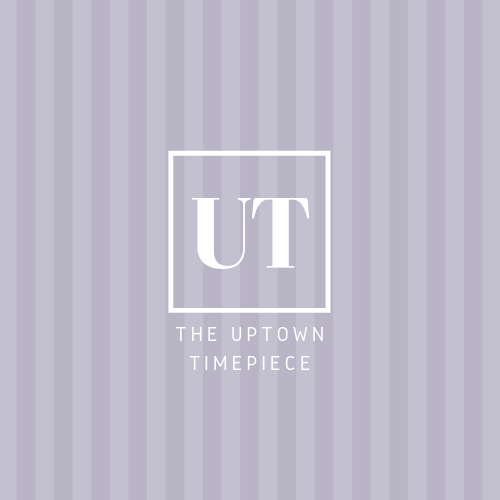 ~c2020 The Uptown Timepiece. No information may be reproduced without written permission from The Uptown Timepiece, its Editor in Chief or its Managing Director.