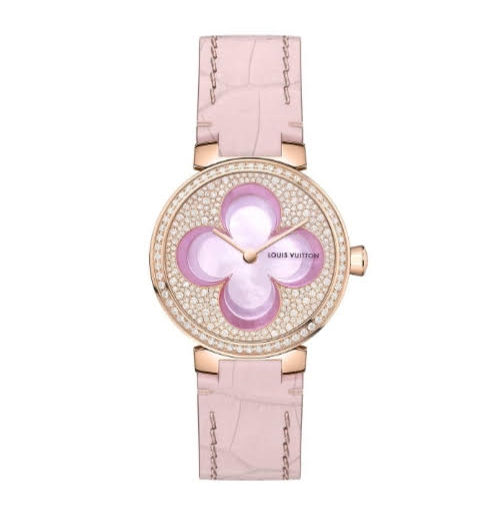 When we hear or see the color pink, the things that come to our mind are sweet, cute, delicate, charm, playful, romantic, flowers, girls, and love.  Whether you are looking for a Valentine's Day gift or just want to upgrade your spring wardrobe, a pink designer watch is what you need.
Pink is considered as the universal color of love; it is the sweet side of red color.  Both, pink and red are great for representing love.  The color red represents passion and heat while pink represented charm and romance.
To help you choose the best pink watch for the special woman in your life, we have listed a few of the most amazing watches.
Kindly note, this post contains affiliate links.  The Uptown Timepiece may receive a commission at no extra cost to you should you choose to make a purchase.  The Uptown Timepiece is independently owned.  The opinions expressed here are our own.
1. Louis Vuitton Tambour Slim Blossom
(Retail Approximately $29, 440.00 USD)
This Louis Vuitton Tambour Slim watch, shown above, is an excellent pink ladies designer watch.  It features an iconic monogram pattern with a delicate monogram flower that complements the feminine style.  The flower is created using white mother-of-pearl in 3D.
To enhance the appeal of the watch, there is a color shading effect.  In addition, the dial has 248 diamonds.  The best feature of the watch is the interchangeable straps.  This watch is water-resistant up to 50 meters.
2. Bell & Ross BR S Pink Diamond Eagle
(Retail Approximately $6,600.00 USD)
Another great pink watch that will inspire you to get a stylish and elegant watch is BR S Pink Diamond Eagle by Bell & Ross.
The pink sunray dial of the watch has an Aquila constellation that is represented by 7 diamonds.  The crystal of the watch has a sapphire featuring anti-reflective coating.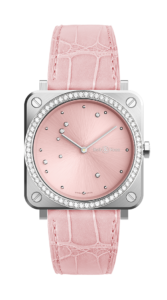 The watch has a 39mm diameter case with satin polish steel.  It has a pink alligator strap that will bring an appealing and sophisticated touch to your personality.  This watch is available in two options: with or without the diamond bezel; selling for $6,600.00 USD or $2,800.00 USD respectively and makes sure you create a great first impression.  The watch is designed for professional and everyday use.
Update 2020: Due to the impact of Covid-19 the Bell & Ross Pink Diamond is unavailable from our partners in the alligator strap style.  To view the Bell & Ross Pink Diamond Eagle available in the stainless steel band design, you may click below now.
3. Corum Bubble
(Retail Approximately $4,785.00 USD)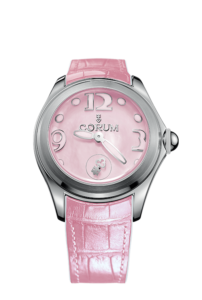 One of the best pink ladies designer watches is produced by Corum.  The Bubble is an amazing watch to bring a touch of class and style to your outfit.  Known for its aesthetic appeal and technical excellence, this watch is perfect for adding sparkle to spring.
The watch has a 42mm case with an 18k rose gold crown and bezel.  It features a domed double anti-reflective sapphire crystal with either plain or with 50 full-cut diamonds.  This watch has a brass dial with mother-of-pearl with 5N gold-toned pink superluminova.  It has an alligator pink strap, making it a wonderful choice for all types of occasions.
Also note, at the time of writing, the diamond version is eligible for Amazon Prime.
4. Chopard Happy Sport
(Retail Approximately $8,100.00 USD)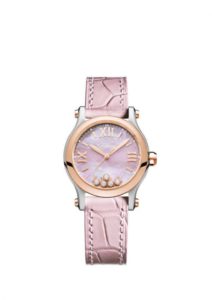 Happy Sport is a wonderful watch produced by Chopard.  This timepiece is perfect for someone who wants to have an elegant yet sporty look.  The watch has a mechanical movement with automatic winding.  This is a high-quality and reliable watch that makes it the ultimate timepiece.
The dial and case of the watch are made from stainless steel and 18k rose gold.  The case is 30mm in diameter and features a white diamond.  The watch has 27 jewels while it has a pink alligator leather matt strap.  It will add a classy and stylish appeal to all types of outfits.
5.
Hublot Spirit of Big Bang Ceramic Light Pink
(Retail Approximately $15,700.00 USD)
'Hublot Big Bang' are three of our favorite words here at The Uptown Timepiece, for we know it will mean to us, gemstone delight.  The Hublot Spirit of Big Bang Ceramic Light Pink is no exception.
This stunning bezel made of steel boasts 50 diamonds weighing approximately one full carat.  A comfortable size for a ladies wrist, the case size is 39mm.  Automatic self-winding movement makes this elegant timepiece easy to use and wear.
We hope these pink ladies watches will encourage you to surprise the special women in your life with a classy and elegant pink watch.
Which pink watch above is your favorite?  Let us know in the comments below.  Be sure to SHARE TWEET PIN too!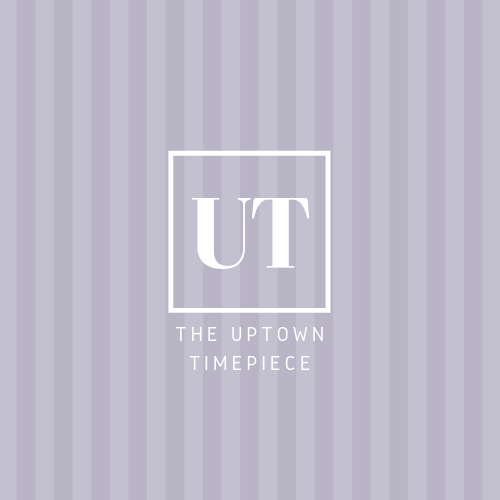 ~c2020 The Uptown Timepiece. No information may be reproduced without written permission from The Uptown Timepiece, its Editor in Chief or its Managing Director.