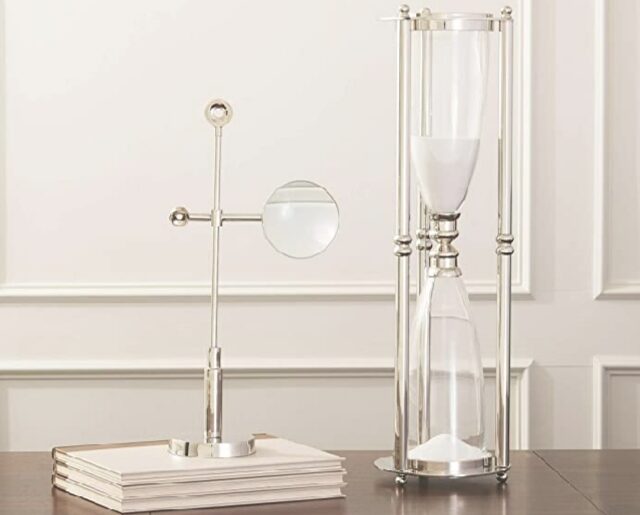 The hourglass, our Director's favorite type of timepiece by far,  is both decorative and functional.  Shrouded in allegory, the hourglass has become a symbol of many things in our modern day.
To some, the hourglass is used as a reminder that life is precious and to manage our time here on Earth with honor.  To others, it represents the fine connection between life and death; between Heaven and Earth.  To many, it represents balance or the perfect proportions of the female form.  To some, it means the eggs are done.
Kindly note, this post contains affiliate links. The Uptown Timepiece may receive a commission at no extra cost to you should you choose to make a purchase. The Uptown Timepiece is independently owned. All opinions expressed here are our own.
According to Guinness World Records, the first hourglass is said to have been invented by a French monk called Liutprand in the 8th century AD.  Also known as a sand glass, a sand timer or a sand clock, the hourglass was particularly useful in ancient maritime travel because its time-keeping capabilities were unaffected by the movement caused by waves.
Join us as we share with you some traditional expressions of the hourglass sand timer, some more modern examples of this extraordinary timepiece style and even one example that you can wear.
1. TechEcho Geometric Hourglass
(Approximate retail $254.50 USD.)
Reminiscent of the shape known as Metatron's Cube, this geometric hourglass is the hourglass that rests on our Director's desk.
This nontraditional hourglass is one of the few pieces that can stop the sands of time simply by resting it horizontally, stopping the flow of the sand.

Available in three sizes; 15 minutes, 30 minutes and 60 minutes, this hourglass add a modern touch to a timeless classic.
2. TechEcho USB Hourglass with Night Light
(Approximate retail $503.50 USD.)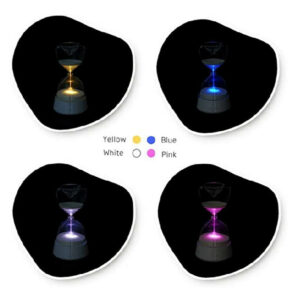 Also made by TechEcho, this relaxing unit combines an hourglass with a colored night light. As the sea sand fills the lower chamber, the colored night light gradually dims.
USB charging makes for convenient use. Easily change settings to any of the four colors with just one touch of a finger. Total run time for this hourglass is 15 minutes.
Having trouble falling asleep or simply wish to create a peaceful mood? This is the hourglass for you.
3. Howard Miller Hourglass Floor Clock
(Approximate retail $3155.00 USD.)
The most noble of all the hourglass timepieces on our list today is without question, the aged iron hourglass floor clock by Howard Miller. Founded in 1936, Howard C. Miller insisted on "Incomparable workmanship, unsurpassed quality and a quest for perfection."
The triple chime of this impressive floor piece has both a volume control and an automatic nighttime chime shut-off option to keep your home quiet in the evening hours. The functional hourglass in the middle of the case can be rotated and positioned by hand.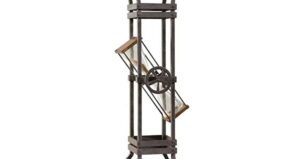 Two more simply designed models of this clock are also available; one in black iron and the other in polished chrome.
4.  Global Views Antique Style Sand Clock
(Approximate retail $872.50 USD.)
This heirloom quality sand clock by Global Views is sure to impress.  Hand crafted, each piece bears slight differences, lending to the true uniqueness of each magnificent 60 minute glass made.
Standing a formidable 25 inches tall, this hourglass is a definite statement piece suitable for the finest homes.  Without question, it makes an excellent gift for graduations, engagements, weddings and especially anniversaries.
Whether you select the antique brass finish or the nickel finish, this luxury timepiece  will bring delight for years to come.
5. Tateossian Sand Timer Cufflinks
(Approximate retail $265.00 USD.)
By Tateossian London, these cufflinks are rhodium plated metal with black enamel accents. While not precise for measuring time, the sand is free flowing between chambers.
These object de intrigue, while not actually timepieces, pay homage to the hourglass in such a stylish way, we were excited to include them in our list today.
Also note, at the time of writing, this item is eligible for Amazon Prime.
6. Tokyo Hot Traditional Hourglass
(Approximate retail $80.00 USD.)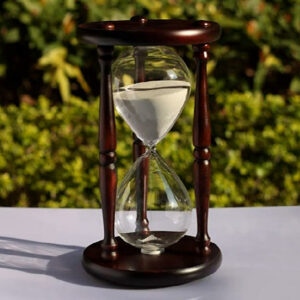 This traditional wooden hourglass is pure and practical. Priced at only $80.00 it is a lovely hourglass for the new hourglass lover.
Tokyo Hot has made this 60 minute timer available with either colored blue, colored purple or pure white (our favorite) sand.
Paired with the deep bright cherry-toned wood, this is an hourglass that made our Director nostalgically remember her grandmother reserving an hour, every weekday, to watch her favorite television program, Days of our Lives.
Like sands through the hourglass, so are the days of our lives.
~ For Grandma & the happy kitchen time we spent together.
Jili Online 15 Minutes Happy Time Sandglass Hourglass Sand Timer Kitchen Clock Home Decorations – Purple
Thank you for spending your Special Time with us.  We appreciate you.
Have something to share?  Comment in the section below.
Until next time…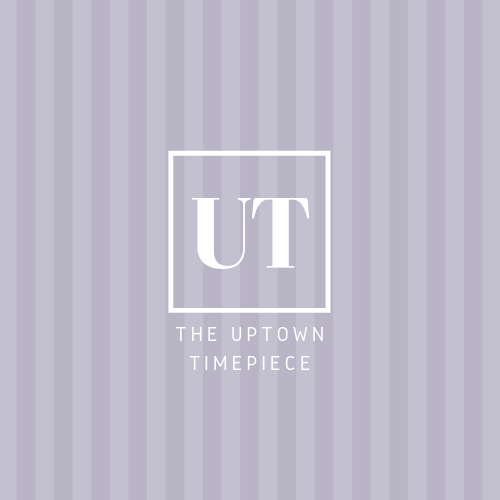 ~c2020 The Uptown Timepiece. No information may be reproduced without written permission from The Uptown Timepiece, its Editor in Chief or its Managing Director.