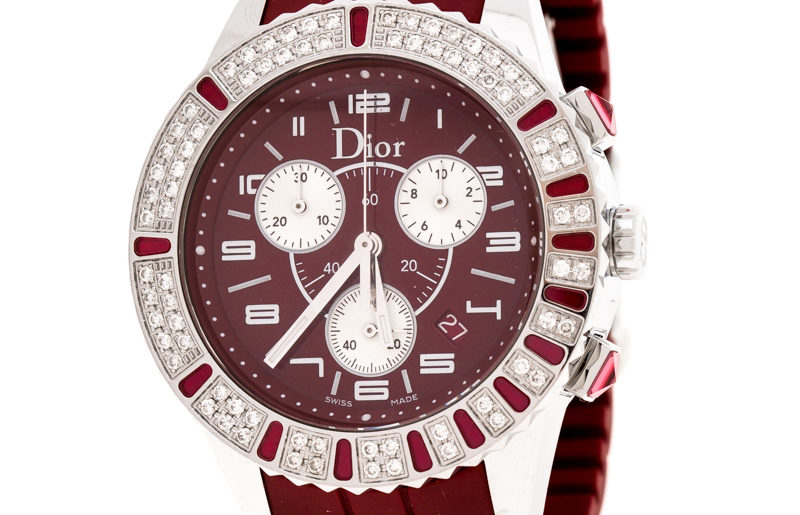 Updated August 27, 2020  What is the first thing that comes to your mind when you see the color red?  Many people would say blood, danger, anger, or fire.  Well, that's not it.  Red is the color of blood and fire; passion, love, and seduction; strength and power.
It is a color of absolute womanhood; the color of Parisian Girl; it is a timeless color.  Without a doubt, red is the color that goes well with every hair and skin color.  Red symbolizes confidence, action, and courage.  It is an emotionally intense color, which improves the human metabolism.  Red color has high visibility that is why many important items are painted red.
The color red has different meanings for everyone.  In Russia, red means beautiful.  This color is often considered the color of good luck.  Keeping the importance of red in mind, we have listed some of the best red luxury women's watches.
Kindly note, this post contains affiliate links.  The Uptown Timepiece may receive a commission at no extra cost to you should you choose to make a purchase.  The Uptown Timepiece is independently owned.  The opinions expressed here are our own.
That said, have a look!
1. The Kelly Watch by Hermes
(Retail approximately $2,850.00USD)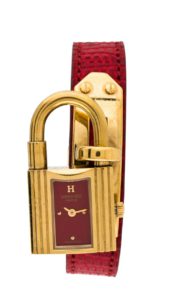 The designer watch in red will give quality time a whole new meaning.  The intricately designed watch will keep you in style and on time.  The Kelly watch has a rouge Moyen lizard skin band, gold cadena watch charm, and red dial.
Win up to a $5000 Ring – Shop Today
The electrifying red watch is an elegant and timeless product.  Made in France in 1995, it will match any look and mood.  You can easily transit from day to night, casual to sophisticated, work to play.  The watch has a 20mm dial and 1.5 inches high charm.  It is a charming and classic watch that will add a classy touch to your outfit.
2. BVLGARI Serpenti Twist
(Retail approximately $9,700.00USD)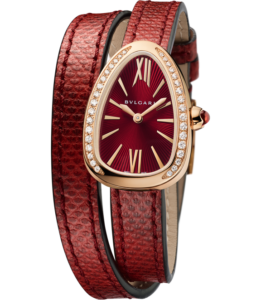 The red karung leather with 18K rose gold will give you the versatility that you crave.  It has a red dial of 27mm and this Serpenti twist has 34 diamonds on side of the unique shaped dial.  It is a great choice for expressing the unique side of your style.  This quartz movement watch has the best blend of quality materials, great artisanal techniques, and wearability.
3. The Christal Watch by Christian Dior
(Retail approximately $7,400.00USD)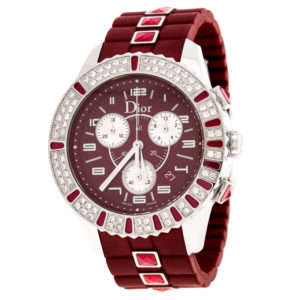 This Swiss-made watch is a masterpiece that adds class and sophistication.  It is a timeless piece from their Christal Collection that has a sleek and delicate stainless-steel case of diameter 38 MM.  The rubber strap is filled with gemstones that make it a dainty and feminine watch and will offer delicate detail to your look.
The red eye-catching watch will offer the standout style you are looking for.  The watch has a detailed dial with Arabic numeral hour markers, minute markers, three hands, and a date window.  It is water resistance up to 50 meters.
Update 2020: Due to the impact of Covid-19 exact items may not be available from our partners at this time.

So, buy a fine designer to watch in red and look fabulous.  With a red watch, you will have the confidence you need to take the world head-on.  Enhance your lifestyle with a good watch.
Do you like a watch in red color? Let us know in the comments below.
Be sure to SHARE TWEET PIN too!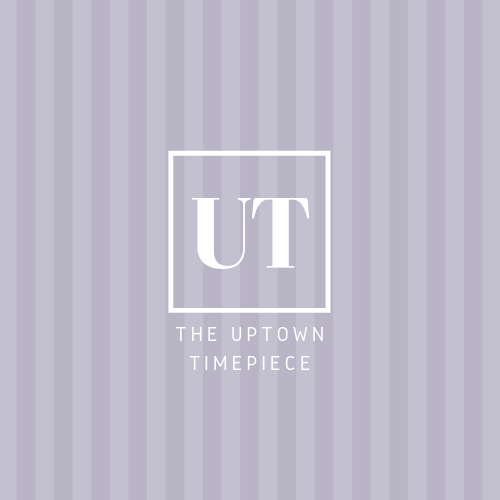 ~c2019 The Uptown Timepiece. No information may be reproduced without written permission from The Uptown Timepiece, its Editor in Chief or its Managing Director.